We recently asked a customer if he would document the delivery of their new American Outdoor Grill. Mike N, of La Mesa, California, was kind enough to provide a few images and a brief account of his experience. We hope this will help you better understand what to expect when its comes time for your BBQ delivery. Thanks again Mike!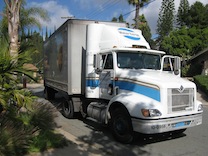 The freight company called me the day before to arrange for someone to accept the delivery. They were able to give me a general time frame when I could expect the truck to arrive between noon and 4:00. Around 1:15 the semi truck pulled up in font of the house and I met the driver Mitch. When he moved the pallet forward I was surprised, to be honest shocked by how large the box was.
Mitch used his power dolly and lift gate to remove the pallet from the truck. Once he had the BBQ off the truck I asked if he would mind helping me move it to the garage. I know not every driver will do this but he said it was no big deal since we have a pretty manageable driveway.
Once I had a moment I opened the box and made a quick inspection to make sure everything was ok with the grill, then signed off on the delivery. I was impressed by how well it was packaged, both inside the BBQ and surrounding it was protected by large foam blocks.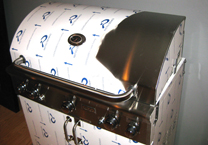 I easily removed the BBQ from the box as the casters were already attached, 99% of the unit came preassembled. The only thing I needed to attach were the side shelves and cooking grids. It actually took longer for me to remove the white protective cover then it did to attach the shelves. Just a tip don't cut your fingernails for a couple days prior to delivery, the protective cover can be hard to get off.
Once we had all the protective material removed we dropped in the flavor grids and grates and we were done. All and all it was an easy process and I was happy that I did not need 10 different tools and 3 trips to the hardware store to be grilling that same night.

Thanks,
Mike